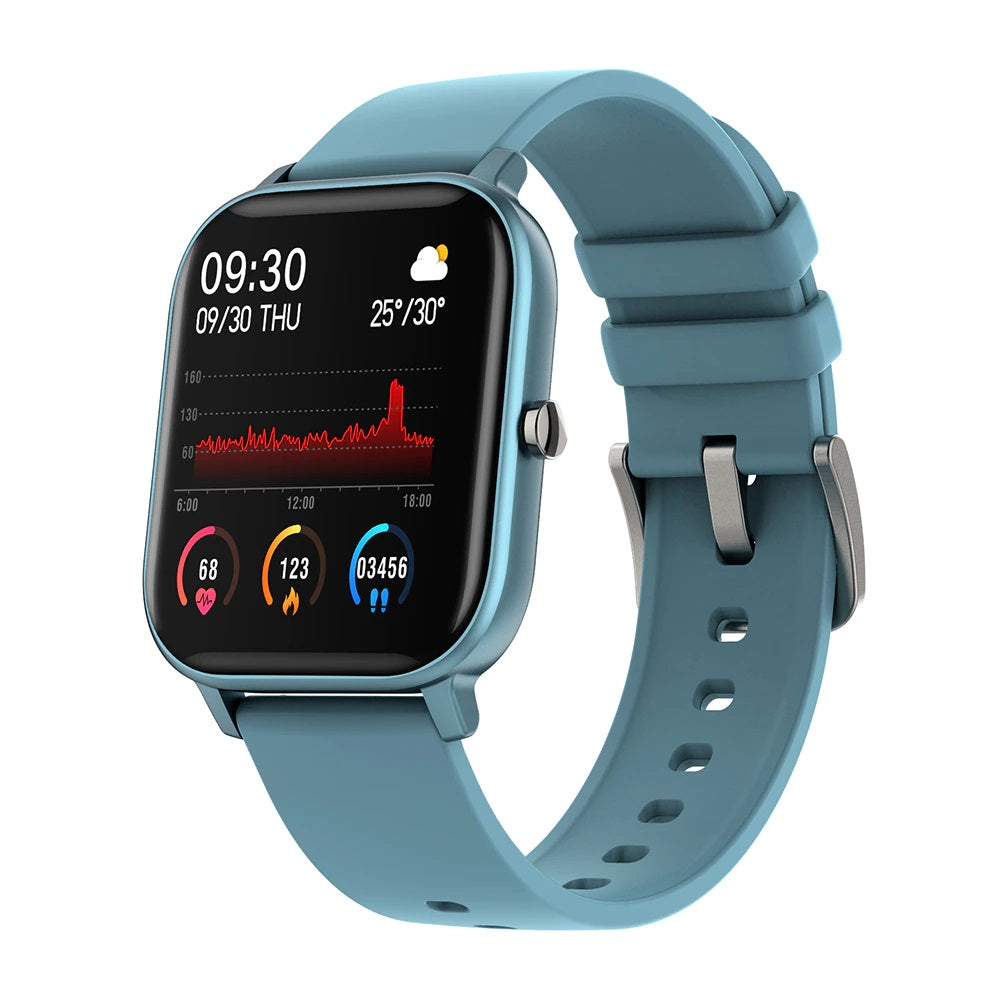 The HealthWatch
---
Introducing Your Health Companion
Fed up with sky-high prices for overrated smartwatches?
Most brands will have you shelling out for the label, not the value. But we think differently.
Our mission? To provide you with a smartwatch that outrivals Apple Watch, Fitbit, and more - at a fraction of the cost. 1/15th to be exact.
Master Your Vital Signs
Stay one step ahead with round-the-clock monitoring of your blood pressure & blood oxygen levels. An essential tool for staving off illnesses & maintaining heart health.
Instant Heart-Rate Check
Gain real-time insights into your heart rate. Because your health deserves no less.
Never Miss What Matters
From important calls to urgent messages, stay in the loop with the HealthWatch notifications feature.
Your Personal Meteorologist
With just two taps, get accurate weather updates. No fuss, no complications.
Real-Time Fitness Tracker
Experience comprehensive fitness tracking - heart rate, steps taken, calories burned, and more - designed to take your health to new heights.
Sleep: Your Secret Health Weapon

Unlock the secrets to better health through understanding your sleep patterns.
Research says sleep is the cornerstone of good health. Invest wisely.
Why not invest in it?
Control Your Music On The Go
Switch songs, play, and pause without touching your phone. Because convenience matters.
Ready for Anything: Waterproof
The HealthWatch stays with you come rain, come shine.
Our Promise: Satisfaction Guaranteed
Not fully satisfied? Tear up the invoice and forget about it. With us, you're always in safe hands.
Lifetime Warranty
Should anything happen, drop us a line at support@the-health-watch.com. We'll arrange for a refund or a free replacement pronto.
Frequently Asked Questions
You ask? We answer.
We offer 100% money-back guarantee on all our products.
Is the smartwatch easy to use?

Yes, many of our customers find our smartwatch very easy to use and love the user-friendly interface.
Why do customers love the HealthWatch?

Customers love our HealthWatch for its great health monitoring features, ease of use, and stylish design.
What makes the HealthWatch a great choice?

Our smartwatch is loved for its good performance, health monitoring features, and ease of use. It's a great accessory to help you stay on top of your health.
Can the HealthWatch help monitor my blood pressure?

Absolutely! Our HealthWatch comes with a blood pressure monitoring feature that many customers find useful.
How does the HealthWatch help in monitoring health?

The HealthWatch provides real-time monitoring of various health metrics like blood pressure, which can be crucial for individuals especially concerned with their health.
Our customer support is available Monday to Friday: 8am-8:30pm.
Average answer time: 24h
Blog posts
View all
Track your activity with HealthWatch
The Best Fitness Trackers of 2022 Are you looking for a reliable and accurate fitness tracker to help you reach your health and fitness goals? Look no further than our top picks for the best fitnes...
Shipping & Returns
United States: 4-10 days
Canada: 5-12 days
Australia: 7-14 days
International: 7-20 days

All orders are shipping within 48 hours with a tracking number.